Looking for a new spot to get fit? Check out one of these gyms.
A bad training environment can quickly ruin a good workout, matter how committed you are to your training routine. Goals are great—we all want gains and the positives that come along with them—but making sure that the gym you frequent is up to par is just as important as choosing your plan.
It doesn't take much to make a bad gym, or for a good place to morph into a bad one—a new owner, neglected maintenance, disgruntled or poorly trained employees. Next thing you know, you're fighting to cancel your membership. My last bad gym, no kidding, made me write a formal letter of resignation, and then forced me to schedule an "exit interview," all to chisel me out of an extra month's dues.
But getting out of a bad gym membership is only half the battle. Next you have to search for a good one.
We can help you with that. We looked into the national gym chains, soliciting opinions from readers and knowledgeable friends while visiting local branches when we could.
Most gyms these days, big and small, are filled with similar cardio and weight machines. Bigger ones just have more of them. But we don't care about any of that.
For the most part, we focused on the free weights they tuck into the far corners of the workout floor, and the space they allocate for the kind of training you see in Men's Health: heavy lifts with barbells and dumbbells, challenging exercises with kettlebells and suspension systems, and multi-directional bodyweight exercises for mobility, core strength, and metabolic fitness.
So a chain like Planet Fitness, which discourages heavy lifting and in most locations doesn't allow barbell squats or deadlifts, is out. (Although you can still get a decent workout at a gym like that. Here's how).
We did sprinkle in some variety though, including one recommendation that might get you out of your comfort zone—if you're bold enough to try something new.
These are the best places to snag a membership in 2019.
Gold's Gym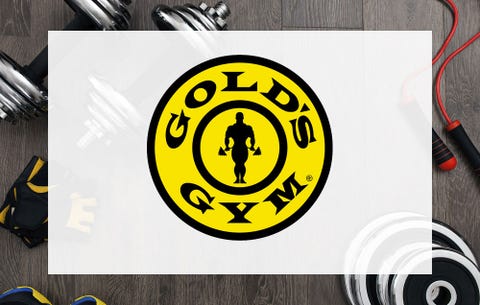 I've been to the flagship Gold's in Venice, California, and I've been to several others over the years, including a local one that's newly remodeled.
They're all different (especially the one in Venice), but they all share one important trait: In my experience, they're designed to accommodate serious lifting. The local one had dumbbells up to 140 pounds, kettlebells up to 40 pounds, a heavy bag, and even a couple of tires to flip.
One I used a few years back was a complete dump—broken plumbing in the locker room, filthy carpets in the warmup area—but even there I could get a good workout, as long as I skipped the floor exercises.
Readers shared similar experiences. Because most Gold's locations are franchises, and many franchisees own more than one gym, what you get for your membership will be very different from one area to the next. It might be the nicest gym in town, or an embarrassment, or anything in between.
Gold's Gym has ranked highest in customer satisfaction in two consecutive J.D. Power surveys. I'd guess that the increasingly competitive market has weeded out the substandard franchises. The newer locations, according to the readers who shared their experiences, are great places to lift.
I was quoted a monthly fee of $25, with a one-year initial contract, after which you can cancel at any time.
Anytime Fitness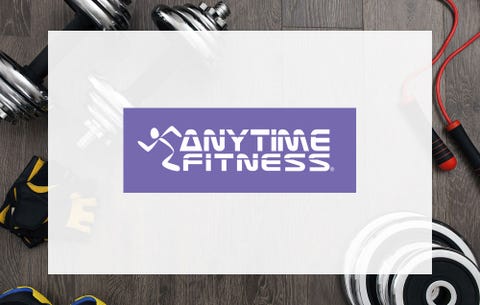 Anytime offers a uniquely travel-friendly feature: A key card system allows members to use any its 3,000-plus locations at any time of day, even when there aren't any employees on the premises. As a reader who travels more than 200 days a year explained to me, "Unless I'm in a very remote location, like a national forest, I can generally find an AT."
The downside? Anytime is one of the most aggressive and fastest-expanding franchisors in the fitness industry. As you might expect, the size and quality can be wildly different. One club might be huge, with everything you'd want in a gym, while another might be tucked away in a strip mall, with hardly any equipment or room to use it.
"The signage is pretty standard, but that's about it," the reader said. "But no matter where I go, they'll always have at least one squat rack, a barbell, and an assortment of dumbbells heavier than the ones I can find in the hotel."
Monthly fees vary, but the average price of membership seems to be $30 to $40.
24 Hour Fitness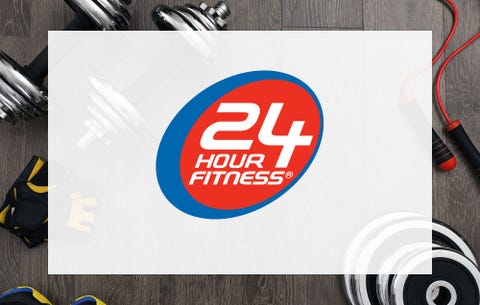 This chain, with more than 400 clubs in 13 states, elicited the broadest range of opinions from readers. A reader based in Los Angeles, who said he's been a member "virtually forever," offered this critique:
"Quality varies enormously, almost comically, from one franchise to the next. At the one I use the most, the roof is a sieve, there's one tiny window in the whole place, and the water fountain most convenient to the weight area is constantly broken. Ten miles away, there's another 24 Hour that's huge, well-lit, with massive windows and high ceilings. They constantly update their equipment and even added a turf area with big tires for flipping and a prowler. The place is a dream to use."
Another reader agreed that equipment differs from gym to gym, but said that overall, "they've embraced heavy lifting, even if it means some chalk and noise."
For $30 to $40 a month, you might get the best gym in town, and a great place to work out when you're on the road, if you mostly travel to bigger cities. Or you might be disappointed. You just have to judge each location on its own merits.
LA Fitness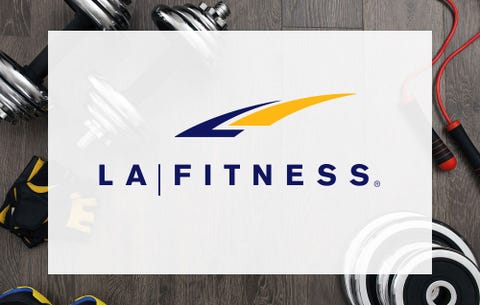 The parking lot of my local LA Fitness was packed on a cold, rainy, crappy Sunday morning a week before Christmas. Inside, the club was bright and warm and filled with people working hard. The manager who took me on a tour was friendly and engaging.
Right away, though, I felt a disconnect. He asked me where I currently work out. I lied (sorry about that) and mentioned the bad gym I fought to leave. He told me he'd worked out there, but was disappointed because they didn't have any "ab training equipment."
I asked what he meant. He seemed confused by my confusion. I didn't tell him that I wrote a book on core training, with dozens of exercises that require either no equipment, or basic stuff like a cable machine, TRX, or Swiss ball. But I figured out what he meant soon enough. As we started our tour of the workout floor, he proudly pointed out his club's six ab-training machines. Six!
So it went throughout the tour. Tons of machines, all shiny and seemingly well maintained. Lots of benches for every conceivable type of barbell press—flat, incline, decline, overhead. The setup would be perfect for someone who wants to isolate muscles and work them from every angle.
Since I don't use many machines, and my shoulders have filed a restraining order to prevent me from doing barbell presses, I looked for the things I might use. That was disappointing. For starters, I would have to use hexagonal weight plates for deadlifts, which makes for an awkward setup. (Lots of readers complained about flat-sided plates, and not just at LA Fitness.)
But the biggest problem is one multiple readers described. "If they have any specialized equipment, it's for trainers only," one said. Another added: "The area of the gym with the TRX and kettlebells is cordoned off. They frown on box jumps—personal training only."
All of which is a shame, because it was easily the best-looking health club I've seen in recent memory, and it was a good deal. I was quoted $100 up front and $30 a month, with no contract and access to hundreds of clubs in dozens of cities. But just because it's not for me doesn't mean it isn't a good choice for you.
Crunch Fitness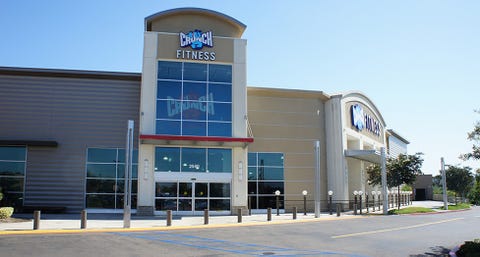 CRUNCH FITNESS
Crunch gives its members a mix of just about everything they might want in a fitness club: Along with the standard strength and cardio equipment you'll find at most chains, there are also personal training, small group training, and specialized group fitness classes (like our own 30-in-30 anniversary class) available.
Like other chains, however, those options all depend on where exactly you're training. There are two tiers of Crunch franchises, Crunch Fitness or Crunch Signature, which determine exactly what amenities will be available to you, along with the size and space constraints of each particular franchise.
Membership fees for the lowest-tier option start at $9.95 per month—but adding more bells and whistles will drive up that cost.
Pure Barre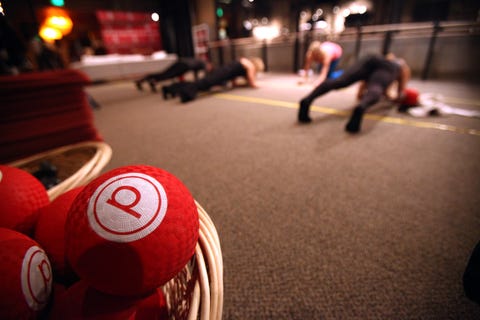 TOMMASO BODDI
GETTY IMAGES
Ready to try something new that doesn't revolve around the weight room? Pure Barre has 500 locations in North America, meaning there's a good chance that you'll be able to find one near you if you're interested in giving the ballet-style workouts a shot.
You won't be exercising on your own here, so lone wolfs will probably want to opt out. Each session is a 45 to 50 minute total body workout, with options ranging from the original barre-heavy "Pure Barre" class to the resistance training-inspired "Pure Reform" option.
The classes don't come cheap, though—and unlike most of these gyms, you're given the option to purchase access in multiple session blocks, although longer term unlimited packages are also available.
Blink Fitness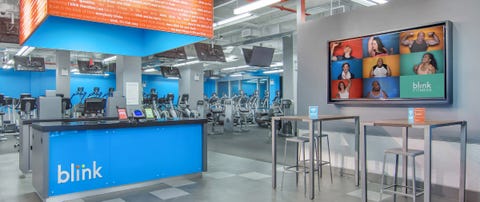 This fast-growing discount chain proves that you don't have to pay a ton of money to get a lot in return.
The set-up for most of Blink Fitness' locations is basic, with cardio, strength training, and stretching areas spread out across the space, but the low-cost of the membership and uniformly bright-colored design makes for an unintimidating space to work out.
Personal training packages are available, but if you're looking to scratch that group fitness bug, you're out of luck here. Instead, Blink is focused on giving you the most bang for your buck—and with the most expensive tier of membership topping out at $26 per month to drop in at any of the gym's locations, anytime, that could go a long way.
Equinox Fitness Club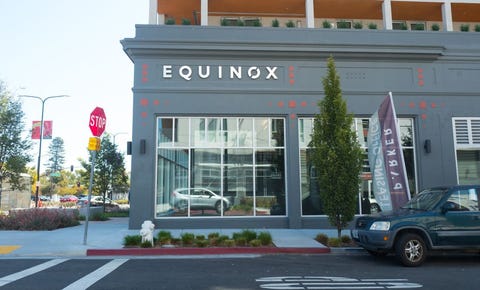 SMITH COLLECTION/GADO
GETTY IMAGES
If you appreciate the more luxurious things in life, you probably fit in at Equinox. The upscale chain boasts prime locations and top-notch amenities like high-end toiletries, along with a tiered system of qualifications for its personal trainers.
Group fitness classes are offered that mimic those of smaller specialized boutiques, but if you want to train on your own, the gym also offers an app to lead you through your workout.
All these fancy features come along with a top-shelf price tag. Membership to a single location costs around $200 per month, with the fee jumping to $260 to be able to access all US locations.
Local Chains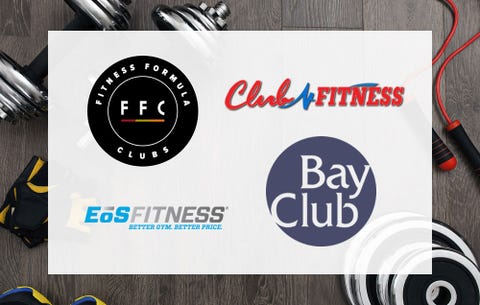 Some of the biggest raves I heard from readers and fitness experts were for local gym chains—EOS in San Diego, Club Fitness in St. Louis, Fitness Formula Clubs in Chicago, the Bay Club in L.A.
Those readers offered some of the best advice for anyone looking for a new place to work out:
"Just because a gym has all the bells and whistles doesn't mean it's a good fit, and just because a gym is perfectly equipped doesn't mean it will be well managed," one said.
"Maybe the measure of a good gym or a chain isn't the equipment or the price," said another. He believes the professionalism of the trainers on staff is the best indication of the workout environment.
Follow this guide to finding the perfect gym beyond this list. And for pure out-of-left-field weirdness, here's a pro tip that trainer Roger Lawson II shared on Twitter: "Have you ever looked up mid-set and saw a butt so good that it inspired you to be a better person? If not, switch gyms."
Lou Schuler is an award-winning journalist and contributing editor to Men's Health. His latest book is Strong: Nine Workout Programs for Women to Burn Fat, Boost Metabolism, and Build Strength for Life, with coauthor Alwyn Cosgrove.